Harriers (Reception & Year 1)
The Lighthouse Keeper's Lunch
We have been reading the Lighthouse Keeper's Lunch in Harriers Class this week and investigating lighthouses. We have had lots of fun!
We have been experimenting by ourselves to see if we can light up a bulb using a battery and wires.
Here's James explaining how he made his circuit work:
Staying safe in the sun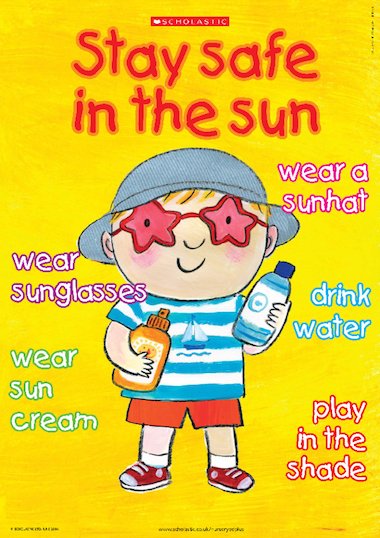 We have been teaching Polly how to stay safe and well when it is hot and sunny.
1. "Drink lots of cold, fresh water."
2. "Wear sun cream on your skin."
3. "Wear sunglasses to stop your eyes hurting."
4. "Wear a hat to give you shade."
Great advice, Harriers Class - well done!
Sweet Williams and Wily Fox
Friday 29th April
We had some sad news this morning because one of our pet fish, Wily Fox, died.
We talked about life cycles and what might have been wrong with Wily Fox
and then we decided to bury him in our garden.
Miss Galbraith made a special box for Wily Fox to go in and we dug a hole to put the box in.
We covered it over with soil and Kelly-Marie said a thoughtful prayer:
"Thank you God for Wily Fox. Amen."
Then, Alfie had the great idea of putting some flowers where we had buried Wily Fox.
We had a little trip to "Sweet Williams", the lovely florist shop next to our school.
We were extremely sensible, walking in pairs carefully near the busy road.
Even though we were very excited and there were so many lovely things to see, we all looked and smelled but nobody touched anything in the shop!
Aimee found a lovely red rose plant that she thought would be just right.
William's mummy put glitter on the petals to make it look extra beautiful!
We planted the rose next to where Wiley Fox is buried and it looks perfect.
Thank you, Sweet Williams!
Easter Garden
Look at this BEAUTIFUL Easter Garden that Sam made with his daddy.
They even made the container out of wood and Sam planted it all up himself - wow!
Can you see the cross?
What flowers can you spot? How many shells can you find?
We absolutely loved it!
Well done, Sam.
Harriers Easter Week
We have been finding all about what happened on the first Easter.
We had our own Palm Sunday parade! We put up jolly bunting, made palm leaves to wave, cheered for "Jesus on his donkey" and sang our Palm Parade song.
Next we read about Jesus having his last meal with his special friends - The Last Supper. We ate matza bread and drank grape juice and were very quiet so we could remember what Jesus said.
We found out that Jesus washed his friends' feet to show them that he loved them and to help them understand that they needed to be clean on the inside and the outside. Then we got some towels, warm water and bubble bath and Miss Towers washed our feet! We thought this was VERY funny!
We watched a cartoon about Jesus dying on the cross. This made us feel very sad.
We loved the happy ending - Jesus came back to life! Hooray!
Happy Easter!
Find out how we Believe, Belong and Be the Best that we can Be
Our Memory Verse
Alphablocks

Play along with the Alphablocks and have fun with the letters of the alphabet.
Bing Bunny

Have fun making a colourful picture with Bing and Flop.